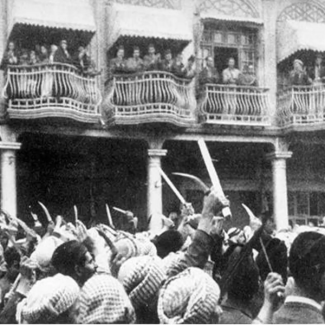 International Farhud Day was first recognized at a special event held at UN HQ and streamed across the world on 1 June 2015. The event featured Alyza Lewin, David Roet, then Deputy Permanent Representative of the Israel Mission to the UN, Rabbi Elie Abadie, Malcolm Hoenlein, and a keynote Lecture by Edwin Black: "The Farhud and the Creation of 850,000 Post-War Refugees From Arab Lands."
Read Edwin Black's turning-point article "When Baghdad Burned" here.
In May 2021, thousands around the world lit virtual candles in remembrance of the 80th anniversary.
May 2021 also saw outbreaks of pro-Palestinian violence against Jews In Europe and the United States. Here is one such, from London.
BLM co-founder Patrisse Cullors calls for Israel to be dismantled here.
Read Edwin Black's show opening monologue here.